President Muhammadu Buhari has conferred the National Honours of Grand Commander of the Federal Republic and Grand Commander of the Order of the Niger, on President-elect Bola Tinubu and Vice President-elect Kashim Shettima.
They were conferred with the honours on Thursday at a ceremony held at the State House Conference Centre, at the Presidential Villa, Abuja.
The President also handed over the transition document which contains briefing notes on each of the nine priority areas, covering key sectors, as well as a compendium, which captures the priority programmes and projects, implemented by his administration.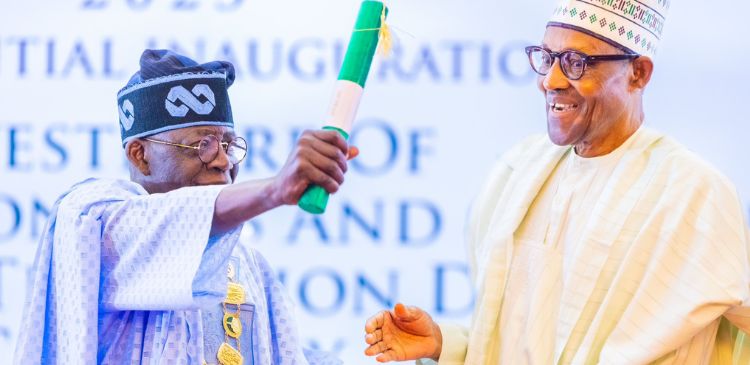 The President also handed over the baton of services to the president-elect, indicating that government is a continuum.
This is the first time in the history of transition in Nigeria, that the transition process has been driven under Executive Order 14, signed by President Buhari.
The order sets the process of presidential transition on a path of legislation, which will institutionalize it.
The event is the first in line or series of events, leading to the May 29 Inauguration.
The President-elect in his address, thanked President Buhari, for his commitment, to the greater good of the country, describing him as a 'democrat'.
He described the transition document as one that would ensure a smooth process of governance.
He said the President's decision to rewrite the wrongs of the annulment of the June 12 Presidential Election and confer the GCFR honour on the Late M.K.O Abiola, is an indication that the President is a lover of true democracy.
He says his administration will continue to reach out to the president, whenever they need him, promising that he will not disappoint the president and Nigerians generally.
(Editor: Ifeanyi Mark)