Global mobile phone brand, itel, has just released the itel P40. A cutting-edge smartphone with innovative technology, itel P40 is specially crafted to suit consumers' everyday mobile phone needs while giving them the power to do more.
In a release announced on 24th April 2023, itel has once again proven its sheer brilliance and craftsmanship in creating the itel P40, a smartphone that lives up to its 6000mAh battery, 7GB RAM, and 18W fast charging technology. Since itel's entry into the smartphone market years ago, the brand has been known as a business that provides affordable, trendy, and big battery smartphones for the average Nigerian. itel has gone a step further with the itel P40- especially with its 7GB RAM, 64GB expandable memory, and 6000mAh battery. The first of its kind from itel.
1 Charge For 3 Days. itel P40 Is a Powerhouse With 6000mAh Battery
In a world where everyone wants to be connected all the time without the hassle of plugging in their phones every 3 hours, there is itel P40. A smartphone armed with a 6000mAh battery users only need to charge once to use it for 3 days. Not only that, itel also equipped the itel P40 with a Battery Lab and 18W fast charge feature for longer hours of fun and entertainment. The 18W fast charging technology lets users talk for 2 hours with a 10-minute charging. While other devices take a very long time to charge, itel P40 users get to save 4 hours and get their device charged 3 times faster.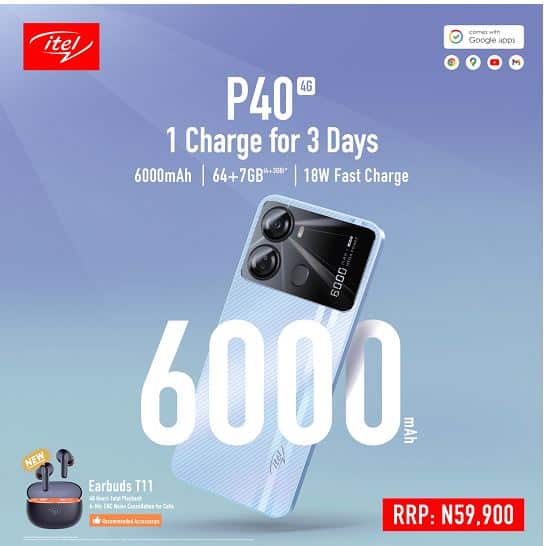 itel P40 Is A Bigger, Better, And More Powerful Device With Incredible Features
With a 59,900 naira price tag, the itel P40 is the only device within its range to offer consumers 7GB RAM, 64GB large memory, 4G network, 6000mAh mega battery with 18W fast charge. itel P40 gives everyone the freedom to watch trending videos, play their favorite games, listen to their loved artistes, and even stay online without having to move around with a powerbank or a charger. With 1 charge, itel P40 has got you covered for 3 days. As an intelligent smartphone with a Battery Lab, you get 32 hours of continuous phone calls, 57 days standby, 204 hours of continuous music playback, 28 hours of continuous video playback, 21 hours of chatting, and 16 hours of continuous gameplay.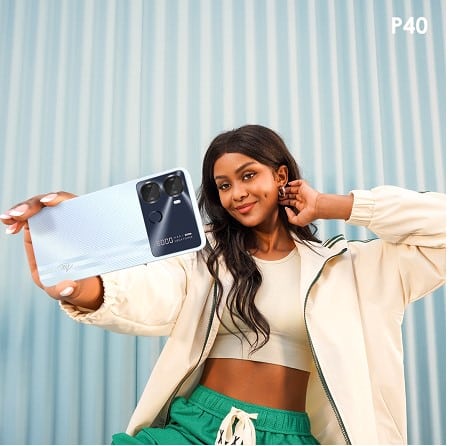 You can go on long trips capturing every moment of the way, watch an entire movie series, and connect with friends and family all day and all night without worrying that your smartphone would go off. In case you're wondering where all those files would be stored, the itel P40 comes with 64GB storage and supports memory extension up to 256GB. itel P40's 64GB ROM can store 26,000 photos, 18,000 short videos, 600 TV series, and 200 movies. It can also allow between 48 and 72 apps to run simultaneously. Everything on the itel P40 is smooth, lag-free, and easy to use.
itel P40 Looks the Part!
All power and no fun would make the itel P40 a dull phone. But trust the itel brand to go all out on features, and the itel P40 truly came to the party. Added to its huge battery capacity and fast-charge quality, itel P40 comes with a trendy and stylish design that's convenient for users on the go. The slim body allows for easy one-handed operation and a comfortable grip
The itel P40 smartphone features an immersive 6.6"-inch HD+ Waterdrop display and a 90% screen-to-body ratio, just perfect for consuming content. Whether you're watching a movie, scrolling through Instagram, or immersed in the TikTok world of ridiculousness, itel P40 gives you a pleasant viewing experience. The smartphone comes in Force Black, Luxurious Gold, and Fantasy Blue colours.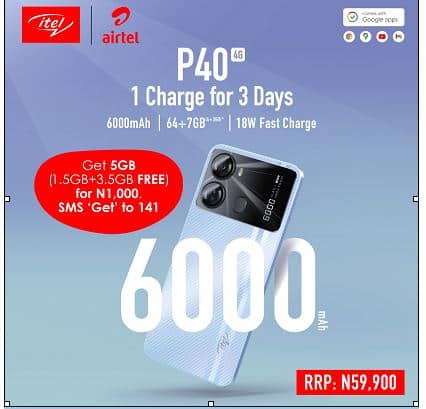 But even the sight-worthy exterior design of the itel P40 is meant to improve functionality. The high definition lens focuses on objects faster and more accurately, picking every detail and capturing all your glammed up moments, thereby offering you clear, distinct and gram-worthy pictures.
The itel P40 is a user-friendly product with features to help you "enjoy better life". With all its user-centered software features, the itel P40 series is a superb smartphone you should have, at a price that won't hurt your purse.