There are strong indications that the Nigerian government will pay withheld salaries of the Congress of Nigerian Academics, CONUA, a breakaway faction of the academic staff union of universities, ASUU
The Nigerian Government in a letter directed CONUA leadership to submit membership details to the Office of the Accountant General of the Federation for the payment of their withheld salaries.
The letter dated January 13, 2023, and signed by the Director of Integrated Personnel and Payroll Information System Department, Charles Wali, was addressed to the CONUA National Coordinator, Niyi Sunmonu.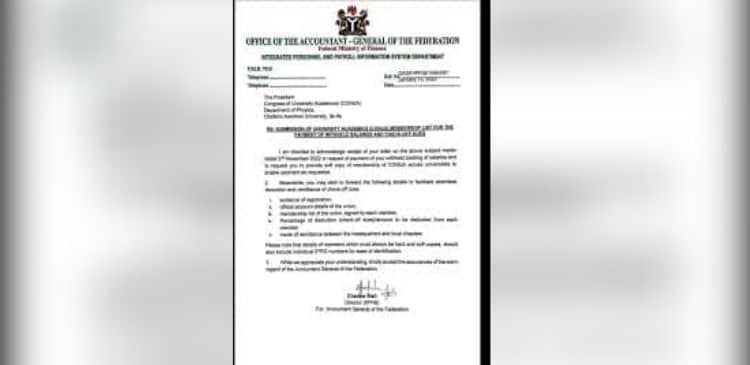 Confirming the development to ait.live CONUA National Coordinator, Niyi Sunmonu said the letter is requesting details of membership to begin processing the check-off dues of the new Union.
CONUA said the letter dated January 12, 2023, is requesting among other things evidence of registration; official account details of the union; membership list of the union, signed by each member; percentage of amount to be deducted from a member and the mode of remittance between the headquarters and local chapters.
Sunmonu said In November 2022, CONUA wrote to the Nigerian government to demand the payment of its members' withheld salaries as the government withheld the salaries of university lecturers following the eight months strike embarked upon by the members of ASUU.
ASUU embarked on strike on February 14, 2022, over the failure of government to meet the union's demands of new payment platform, increased university funding and failure to fulfil agreements and memorandum of action duly signed.
Following government's insistence on implementing the "No work, no pay" policy against the lecturers after the strike, CONUA which was inaugurated amid the 8-month strike, consistently claim that its members did not participate in the industrial action.
CONUA National Coordinator also confirm to ait.live that it has membership in twenty five universities and inter-universities centres, including the National mathematical centre.
Efforts by ait.live to get reaction from ASUU was unsuccessful, as ASUU President, Emmanuel Osodeke did not pick his calls, nor replied to the text message sent to him
(Editor: Paul Akhagbemhe)