Ahead of the 2023 General Elections, President Muhammadu Buhari has urged Nigerians to ensure they vote for leaders who truly understand the pains of the people.
Buhari who made the remarks shortly after commissioning some landmark projects undertaken by the Katsina State Governor, Aminu Masari, on the first day of his 2-day working visit said, he is glad that some governors are emulating his path in infrastructural development, economy and tackling of insecurity.
President Muhammadu Buhari whose tenure elapses in about 5 months, is in his home state, Katsina, to commission some projects done by Governor Aminu Masari, in the last 7 and half years.
The projects commissioned and inspected on the day one of the 2-day working visits are; two of the three multi-billion Naira Under-pass Bridges located at Kofar Kaura and Kofar Kwaya, within the metropolis, the remodelled Katsina General Hospital, the new Katsina Revenue House, rehabilitated Katsina Water Supply Booster Station, Katsina Meteorological Institute of Nigeria, as well as the Darma Rice Mill.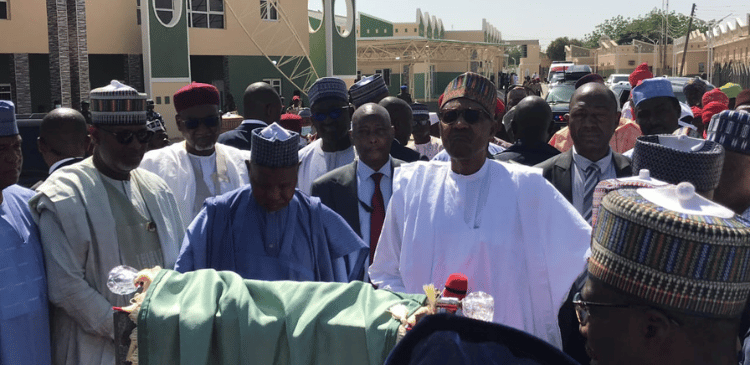 The three interchange road projects embarked upon by the present state administration will cost the government a total of about 10 billion Naira.
Elated President Buhari after lunch at the Presidential Banquet Hall, expressed happiness that some governors are toeing his path, in terms of infrastructure and the fight against insecurity.
He also added that Nigeria is very lucky with lots of brains, calling on the elites to think of the country first, and not be selfish.
Buhari while expressing satisfaction with his style of leadership and achievements so far, assured of free, fair and credible elections, especially with the use of technology, which brought him to office.
Governor Aminu Masari said, all the projects undertaken are to benefit the people, especially the under-passes and interchange flyovers, aimed at decongesting the metropolis.
He told Nigerians to be thankful to God for having President Buhari, who is a leader for all, and not just a section of the country.
Although immediately the president commissioned the underpass project at Kofar Kaura, some irate youths took to the streets to protest what they called dissatisfaction, the situation was brought under control by the combined team of the police, military and vigilante members.
Buhari is expected to commission several other projects, which include the remodelled General Hospital, Musawa, GDSS Musawa, Gora-Makauraci-Mallamawa Road, rehabilitated and asphalted Sandamu-Baure-Babban Mutum Road, as well as Gurjiya-Sandamu-Karkarku Road among other engagements, before returning to Abuja.
Editor : Ena Agbanoma