The police say they have arrested two suspected inmates in Katsina State, North-West Nigeria who escaped during the terrorist attack on the Kuje Medium Security Custodial Centre in the Federal Capital Territory Abuja. They include 30-year old Abdulkadir Musa and 33-year old Kamala Lawal Abubakar.
In a statement by the state police spokesperson, Superintendent Gambo Isah, one of the inmates, Kamala Lawal Abubakar was arrested in Danmusa Local Government Area of the State following raid on a criminal hideout with some quantities of Cannabis Sativa allegedly found in his possession. Abdulkadir Musa was on the other hand re-arrested in Bakori Local Government Area of the state.
According to Isah, the suspects will be handed over to the Nigerian Correctional Service, for further necessary action.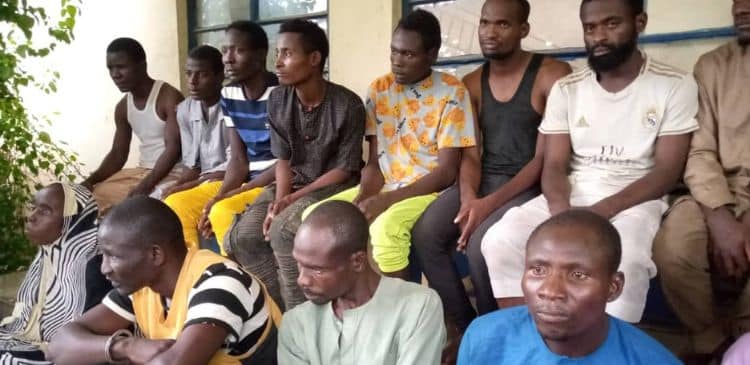 Meanwhile, the police spokesperson said, the Command succeeded in bursting a notorious syndicate of armed robbers terrorising Katsina and its environs.
He gave the names of the two suspects as 25-year old Abdulrazak Isyaku and 18-year old Muhammad Abubakar who specialise in breaking into houses in Katsina and committing armed robbery at night.
Isah further added that, the Command also succeeded in bursting a notorious abduction syndicate belonging to a gang of terrorists.
He gave the name of the suspect as 25-year old Bello Jino who confessed to have abducted many persons within the metropolis collecting ransoms between N80,000 and N200,000.
The police image maker also said, part of those arrested are the suspected killers of Mallam Dayyabu of Kankara Local Government Area where six suspects attacked the deceased while he was working on his farm and thereafter attacked his wife at home with intent to kill her but did not met her rather, destroyed some part of the house.
Furthermore, Isah said the Command also arrested another member belonging to a suspected syndicate of armed robbers hiding in the house of a woman in Malumfashi Local Government Area of the state.
He said, all the suspects have confessed to the commission of various crimes and the Command, will charge them to court upon the completion of investigations.
(Editor: Terverr Tyav)